Two Waratah Series 2 passenger trains arrived on the vessel AAL Hong Kong at the port of Newcastle in Australia on July 5, 2020.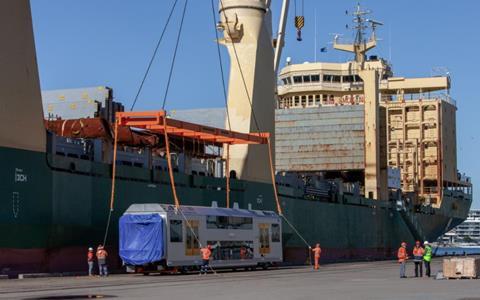 The operation, which was jointly coordinated by port of Newcastle, Newcastle stevedores, Downer Group and Rhenus Logistics, forms part of the Sydney Growth Trains project.
The eight-carriage trains were unloaded at the port by crane and placed directly onto the railway lines, before being towed by locomotive to Cardiff where Downer Group will prepare them for introduction to the Sydney passenger network.
Craig Carmody, ceo at the port, said: "Newcastle has a key advantage in being able to unload this type of rolling stock cargo directly onto rail lines immediately next to the ship, without the need for any unnecessary truck movements."
This shipment signals the second stage of the New South Wales government's 'More Trains More Services' project. Downer Group brought the first 24 trains into service in late 2018.
The operation will be repeated over the next eight months as a further 15 trains are due to be shipped via the port of Newcastle, with the next shipment scheduled for early August 2020.