Even though 2022 was fraught with geopolitical, energy and supply chain challenges, the port of Antwerp-Bruges has reported stable results for the year, while certain segments experienced a slight growth.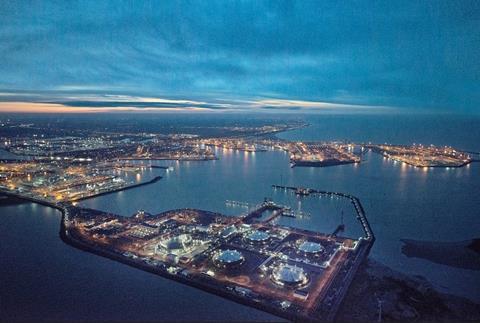 Overall, 286 million tonnes of cargo passed through the port 2022, down 0.7 percent from 2021.
The port reported year-on-year increases in liquid bulk (10 percent), dry bulk (14 percent), breakbulk (1.1 percent), and ro-ro (6.5 percent). The container sector, however, suffered a drop of 8.6 percent compared to 2021. High energy prices and economic uncertainty were attributed for the container volumes shortfall. Furthermore, the Ukraine-Russia conflict caused a steep decrease in Russia-related container traffic by 59 percent.
The demand for LNG as an alternative to natural gas via pipelines from Russian meant the liquid bulk segment grew. Moreover, the port said it processed three times more coal than in 2021, sourcing the commodity from South Africa and Australia. Steel accounted for the slight rise in the breakbulk segment, yet in Q3 steel volumes dropped due to a slowing economy.
Amidst inevitable future challenges, the port stated that it is committed to boosting investments in sustainability and growth across all segments in 2023. The port of Antwerp-Bruges said that it is aiming to become the European centre for hydrogen (LNG) fuel, through its hydrogen strategy. It is also partnering with countries that have the ability to produce the gas (Chile, Oman, Namibia, Egypt, Brazil and Morocco).
Moreover, there are plans to expand and improve automotive capacity at Zeebrugge, Belgium, by building another terminal, while some companies are exploring vertical capacity concepts.
Jacques Vandermeiren, ceo port of Antwerp-Bruges, said: "2022 was, once again, an eventful year, with many logistical and geopolitical challenges. As a world port, we are at the centre of this drama and are holding up well. Thanks to the complementarity of both platforms, we can already see the added value of the merger and, as a unified port, we are much stronger in the face of future challenges."
Annick De Ridder, vice-mayor of the city of Antwerp and president of the board of directors of port of Antwerp-Bruges, said: "The unified port is a global port that relies on a particularly close-knit port community. All employees and companies that make up this port community showed tremendous resilience and strong resilience over the past year.
"We are confident that in 2023 we can continue to focus on sustainable economic growth."