Denmark's Port Esbjerg has rolled out a 'digital twin' that can calculate efficient methods for deploying offshore wind installations.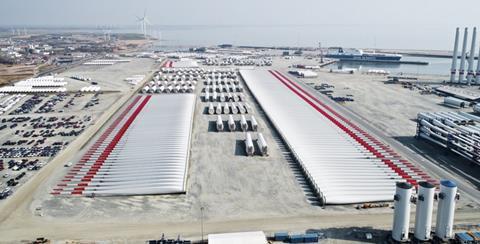 Last year, Port Esbjerg announced that it was working with global infrastructure advisory firm Moffatt & Nichol to deploy digital twin technology to help optimise its activities in offshore wind energy projects, as HLPFI reported here. It explained that a digital twin is a virtual representation of an object or system that spans its lifecycle, is updated from real-time data, and uses simulation, machine learning and reasoning to help decision making.
The computer programme is fed huge amounts of data, enabling it to analyse all portprocesses related to the shipping ofoffshore wind installations, using a 1:1 simulation of the port. Everything from storage locations of wind components and space requirements to the impact of high tide is taken into consideration.
Using the digital tool, the port said it will be able to increase itsannual shipping capacity for offshore wind installationsfrom 1.5 GW to 4.5 GW by 2025. "Working with the digital twin is a gamechanger. We can make much better decisions using that tool. It means that wecan triple ourcapacity at Port Esbjerg without expanding by a single square metre," said Port Esbjerg ceo Dennis Jul Pedersen.
To accommodate the increase in capacity, there will be some developments at the port. For instance, various access roads will be rebuilt.
"The ability to digitally develop the port and physically see the project happening gives you the opportunity to identify issues and efficiencies before any significant capital investments are made, and that's a hugely powerful tool for the offshore wind industry," explained Joshua Singer, a marine structure engineer at USA-headquartered Moffatt & Nichol, which has a division focused exclusively on logistics and detailed design of offshore wind ports in Europe and the USA.
"It is a great achievement that we have accomplished together, and one that we can definitely use here in the USA and elsewhere in Europe," added Singer.
Jul Pedersen also believes that digital twins could play a larger role in the deployment of wind installations across the whole of Europe in the coming years. "There's a lack of space atmost wind ports in Europe," he said, "sowe need to pull the ports out of ourspreadsheets and create more digital twins instead."
Their potential also spreads beyond port efficiency. Jul Pedersen noted: "Just imaginewhat we can achieve when we get suppliers enteredinto our digital twin. With nacelles from Cuxhaven and blades from Hull. There is no reason to think we'll stop at 4.5 GW, and the same goes for increasing capacity in the rest of Europe. And that is before we even start expanding the ports."