President of the UAE Sheikh Mohamed bin Zayed Al Nahyan has inaugurated AD Ports group's Khalifa Port's expansion - a major development project with a total investment of USD1.1 billion.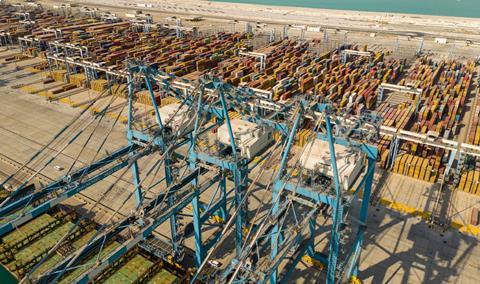 The expansion includes the development of the port's South Quay, Khalifa Port Logistics, and Abu Dhabi Terminals. The port has grown from 2.43 sq km to 8.63 sq km. The group aims to increase container handling capacity at Khalifa Port to 15 million teu per year by 2030, and general cargo handling capacity to 25 million tonnes.
According to AD Ports, Port Khalifa has a total of 21 berths and its quay wall has been extended from 2.3 km to 12.5 km.
"Khalifa Port expansion is a major national project that is considered an important addition to the UAE's ports and logistic services and will further enhance the UAE's position in the global trade," said the president.
AD Ports recently acquired logistics services provider Noatum for USD677 million, third major international acquisition in 2022, following the purchase of a 70 percent equity stake in Transmar and TCI in September, and the announcement in November of its acquisition of an 80 percent equity stake in Dubai-based Global Feeder Shipping (GFS).