Six vessels carrying over 600 pieces of cargo will arrive at the port of Indiana-Burns Harbor to deliver equipment for a gas-fired combined-cycle power plant in Niles, Michigan, USA.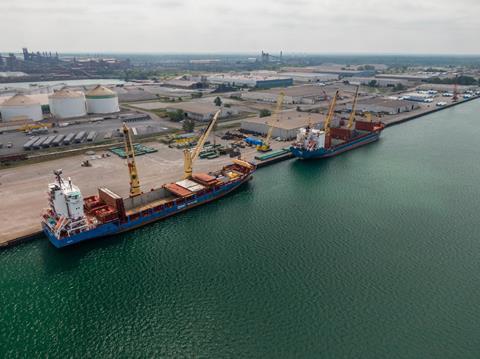 The equipment is destined for the Indeck Niles Energy Center. The first shipment arrived onboard BBC Florida on June 29; the largest piece being shipped is a heat recovery steam generator, which weighs 613,000 pounds (268 tonnes) and measures 100 ft x 12 ft x 15 ft (30.5 m x 3.7 m x 4.6 m).
"We have seen an uptick in large project cargo shipments this year for power plants and wind energy components, but the size and scope of this project makes it one of the largest shipments in our port's 50-year history," said port director Ian Hirt.
The cargo is arriving on the vessels BBC Florida, Timgad, Freida, Calypso, BBC Mont Blanc, and BBC Greenland. Federal Marine Terminals (FMT), the port's general cargo stevedore, will discharge the large project cargo from vessels and load the units onto 84-axle trucks. The cargo will then move to the port's storage yard, before being transported by road to the natural gas power plant site in Niles.
Construction at the power plant began in August 2019 and is expected to be in operation by March 2022.