Representatives of six leading European ports have signed a collaboration agreement that will see them work together to support the development of the offshore wind energy industry.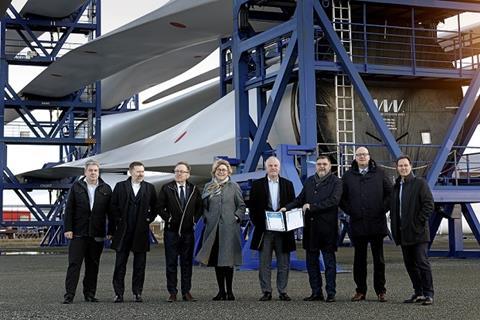 Port Esbjerg in Denmark, port Oostende in Belgium, Groningen Seaports/Eemshaven in the Netherlands, Niedersachsen Ports/Cuxhaven in Germany, Nantes-Saint Nazaire port in France, and Associated British Port's (ABP) port of Humber in the UK signed a declaration in Esbjerg.
The aim is to collaborate at an operational and practical level; they will contribute to knowledge sharing and best practice. The ports will also try to ensure optimal processes and, as an example, share digital experiences. For instance, Port Esbjerg has as rolled out a 'digital twin' that can calculate efficient methods for deploying offshore wind installations, as HLPFI reported here.
The ports may also collaborate on overcoming capacity issues. If one port only has space for half of a project, another port may have space for the other half.
At a European Leaders' Summit during May 2022, the 'Esbjerg Declaration' set the goal of increasing the offshore wind capacity in the North Sea to at least 150 GW by 2050. Germany, Denmark, Belgium, and the Netherlands have set a combined target to deliver at least 65 GW of offshore wind by 2030. Currently, there is just over 13 GW of capacity in the seas around Europe.
"Today, the six of us as signed a declaration stating that we will do everything we can to support Europe's ambitious aims," said Dennis Jul Pedersen, ceo of Port Esbjerg. "In May, the politicians set the framework with the original declaration, and today we've started to act on the challenge they gave us all by raising the targets for offshore wind."
The targets put great pressure on European wind ports because there is currently not enough port capacity to install all these offshore wind farms by the deadline. "We are now joining forces to find the best solutions for optimising the ports in the offshore industry," said Erik Bartholet, business manager, logistics and offshore wind at Groningen Seaport/Eemshaven. "Collectively, we can be regarded as serious partners in achieving the European targets."