Toepfer Transport's multipurpose time charter index has risen for the 17th consecutive month, with the average daily time charter rate for a 12,500 dwt/F-type heavy lift vessel hitting USD17,407 at the start of November.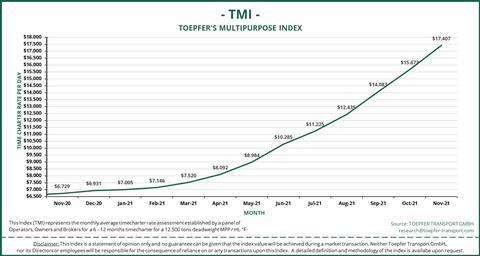 The November figure is a month-on-month increase of 11.06 percent; in October 2021, the rates were USD15,673. Toepfer said that a new benchmark in the region of USD20,000 is not out of reach.
Owners who may offer F-type positions in Asia are seeing rates of USD20,000 for trips or fixtures with shorter periods, added the analyst. The desperate search for tonnage and the need to move containers and project cargo keeps the competition pushing time charter levels to new highs.
An industrial segment that continues to drive the demand for the multipurpose sector is renewable energy. Toepfer said that with 120 m blades and 600-tonne nacelles, the next generation of wind turbines are setting high technical requirements for the logistics supply chain. It questions whether the multipurpose fleet is prepared to cover the future demand – both technically and in terms of size.
Let Toepfer know what you think by taking part in its poll here.