Throughput at the port of Rotterdam declined slightly in the first quarter of 2023 compared to the same period last year, with containers and breakbulk cargoes registering a drop in volumes.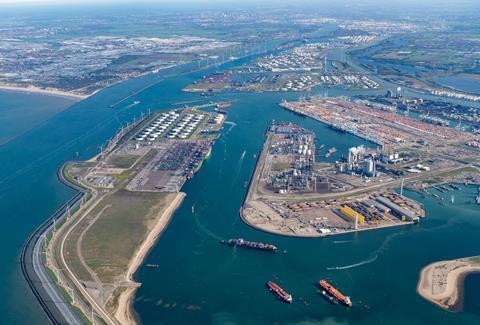 In total, 111.7 million tonnes of cargo was handled at the port in Q1 2023 compared with 113.4 million tonnes in the same period in 2022, representing a 1.5 percent decline in the first quarter.
Throughput of mineral oil products, crude oil, LNG, iron ore and scrap, agribulk and coal increased, while containers and breakbulk (including ro-ro and other general cargo) declined.
Allard Castelein, ceo of the Port of Rotterdam Authority, said: "As expected, the year 2023 started with a slight decline in throughput. Especially in the container segment, we faced a decline in volumes due to high inflation and a weakening economy. Results in the other segments mainly show growth and confirm that dependence on Russian energy flows has been further reduced in line with the sanctions.
"For the remainder of the year, we expect a limited decline in throughput volumes due to the uncertainties posed by the current geopolitical situation and high inflation."
The total throughput in the breakbulk segment decreased by 6 percent to 7.9 million tonnes. Ro-ro traffic decreased by 2.2 percent to 6.6 million tonnes compared with the first quarter of last year. This was due to lower demand from the UK due to a moderately performing economy, said the port.
Throughput of other general cargo fell by 20.9 percent in the first quarter. This was mainly caused by cargo shifting back to the container segment due to lower box rates.
Container throughput, meanwhile, decreased 11.5 percent by weight to 31.5 million tonnes and 11.6 percent by volume to 3.2 million teu. This decline had already started during 2022 due to the elimination of volumes to and from Russia, the port explained. As the war in Ukraine only began in late February, the impact on throughput volumes in the first quarter of last year was still limited. In the past, these volumes accounted for 8 percent of total container throughput.
The decline in imports from Asia (down 14.2 percent in teu) due to lower demand for physical goods as a result of accumulated stocks and inflation was also reflected in the throughput figures.