Rotterdam reported strong throughput figures for the first half of this year. Breakbulk traffic continues to grow, and investments are being made to secure Europe's energy independence.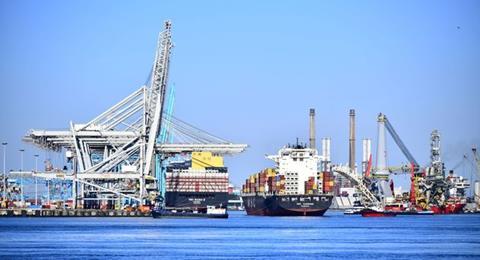 The volume of total cargo throughput at the port of Rotterdam was 0.8 percent higher in the first half of the year (233.5 million tonnes) than in the same period in 2021 (231.6 million tonnes). Breakbulk cargo rose sharply year on year by 17.7 percent.
Growing breakbulk shipping activity at the port of Rotterdam was attributed to rising imports of steel and non-ferrous metals. The port said that in response to the Russian invasion of Ukraine, steel and non-ferrous prices shot up. Alternative suppliers were soon found, particularly from Asia, where Covid-19 led to a slump in demand for steel. In addition, high container rates mean that more cargo is being shipped as breakbulk. Ro-ro traffic was up 16.8 percent year on year.
Throughput of containers was down 4.4 percent year on year in the first half of 2022. The decline was attributed to the loss of this traffic to and from Russia due to sanctions, as well as 5.5 percent fewer calls by carriers due to blanked sailings.
The port of Rotterdam added that the imports of both LNG and coal rose very sharply as an alternative to reduced European imports of Russian gas by pipeline. Throughput of iron ore and agricultural bulk was lower than in the same period last year.
Allard Castelein, ceo of the Port of Rotterdam Authority, said: "Europe relies heavily on Russian energy. The current geopolitical situation makes Europe very vulnerable. The availability of energy and raw materials at reasonable prices cannot be taken for granted. A positive development is that concrete steps have been taken in recent months to make our energy supply more sustainable and to further our energy independence, particularly through investment decisions to build a large biorefinery and Europe's largest green-hydrogen plant.
"The business community has made a commitment in the last half year to invest EUR3 billion (USD3.05 billion) in the energy transition. In addition to the vulnerability of the European energy system, nitrogen emissions continue to be a major bottleneck. Several major projects, including the CO2 capture and storage project Porthos, are being delayed or threatened by delays due to uncertainty and restrictions associated with nitrogen emission."
A major concern for the gateway is that three years after the Dutch Council of State's ruling on nitrogen deposition, uncertainty persists about rules such as the 'construction exemption' and there are still restrictions associated with nitrogen emissions. It said this can act as an obstacle to the energy transition, even though projects of this kind often result not only in lower carbon emissions but also to lower emissions of nitrogen and other substances, in Rotterdam or elsewhere in the chain.