Symphony Shipping's first Ecobox XL vessel, Symphony Atlantic, has been launched at the Ferus Smit shipyard in Leer, Germany.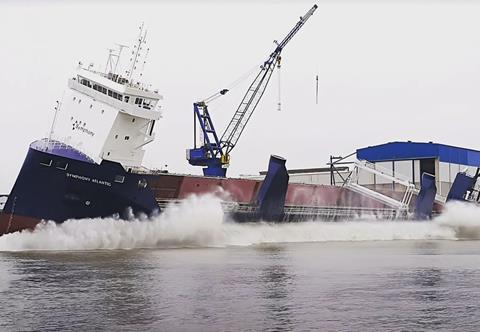 Symphony Atlantic is the first in a series of two vessels on order. The Ecobox XL design is an evolution of the Ecobox and Ecobox DP series focused on extra-long items such as wind turbine blades, while still maintaining good capabilities as a general cargo ship.
The modifications in design and systems are also aimed to further enhance its 'green' performance with a reduction of its EEDI-score to a new class reference standard.
When compared to the original Ecobox design, Symphony Atlantic is 21 m longer and is equipped with a box-shaped hold that measures more than 100 m long and two 85-tonne capacity cranes.
HLPFI reported in March 2021 that Symphony Shipping ordered two newbuild Ecobox XL ships.