Taiwan International Ports Corporation (TIPC) has allocated approximately USD114 million for the construction of two heavy lift wharves at the port of Taichung.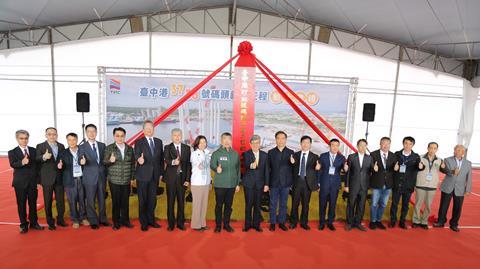 A ground-breaking ceremony took place at the end of April for wharves 37 and 38, attended by senior port and government officials. When complete, the infrastructure will have a combined length of 580 m and a ground-bearing capacity of 40 tonnes per sq m.
TIPC chairman Hsien-yi Lee said that since 2019, the port of Taichung has completed reinforcement works at several existing wharves (2, 5A, 5B, 36, 106, and 107), all of which are now being used by firms engaged in wind turbine components manufacturing and assembly.
He added that while work on three offshore wind farms (Formosa 1, Taipower 1, and Hailong) has already finished, activity continues at Chong Feng (640 MW), Greater Changhua (900 MW), and CFXD (600 MW). Moreover, the pandemic slowed progress at wind farm developments, leading to increased demand from related firms for storage space at port of Taichung that TIPC is now working to meet.
Once this next stage of works is complete in 2026, the port of Taichung will have three major pre-assembly sites for offshore wind energy projects. These areas will each benefit from 30 ha redeveloped land for component storage.