Toepfer Transport's multipurpose time charter index has dipped ever so slightly for the first time in 22 months.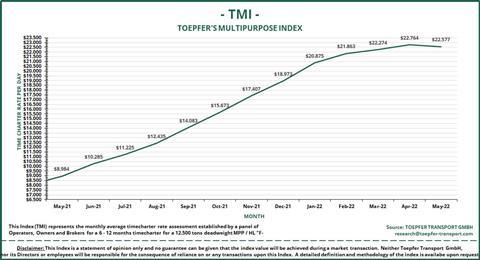 May 2022's average daily multipurpose time charter rate for a 12,500 dwt/F-type heavy lift vessel fell 0.82 percent to USD22,577 per day for a time charter period of six to 12 months.
The shipbroker and industry analyst said that the market dynamic has lost some steam in light of the latest uncertainties connected with war in Ukraine and Chinese lockdowns, also prompting market participants to be more cautious in their forward projections. "However, sentiments in general are positive and it is expected that demand in Asia will rebound as soon as Chinese lockdowns will be lifted, providing new impetus."
Newbuild multipurpose prices have held at their high level, but increases could come again with raw material prices continuing to rise. Second-hand tonnage prices have been revised upwards slightly "as latest transactions have again overtaken purchase prices achieved last months amid strong demand. It is still a challenge for potential buyers to get their hands on suitable MPP tonnage," said Toepfer.