Shipbroker and industry analyst Toepfer Transport reports that the average daily multipurpose time charter rate for a 12,500 dwt/F-type heavy lift vessel hit USD23,099 in July – up 1.47 percent month on month.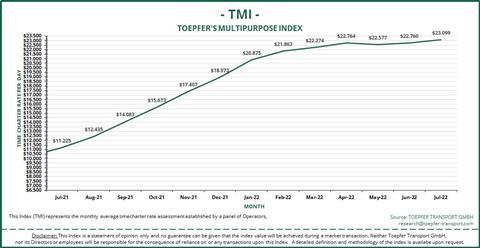 It said that the multipurpose shipping sector is currently driven by a "wait-and-see attitude" even though multipurpose rates stand at an all-time high. The global economy is on the brink of recession. Sentiment across the OECD has been falling for 11 months and is at its lowest ebb since 2009.
"Due to the long lead times for large projects, negative economic trends usually reach the multipurpose market with a certain delay and some indicators give hope that the ongoing surge in demand, especially from the renewables sector, may mitigate some of the upcoming macroeconomic pressure," said Toepfer.
"Facing the uncertainty of when, how long and how hard the recession will hit the market, both the multipurpose second-hand and the newbuilding markets show very low activity. Some owners are still actively promoting their newbuilding ideas but most still have some way to go to turn their plans into effective orders," it added.