United Heavy Lift (UHL) has ordered two additional F-900x Eco-Lifter newbuilds.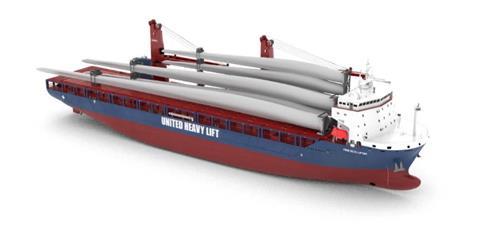 Between 2019 and 2022, UHL took delivery of 17 state-of-the-art F900s with lifting capacities of up to 900 tonnes. The new and enhanced F900x model features high and low-pressure SCR catalysts to meet IMO Tier III requirements. With minimised CO2 emissions, the vessel class exceeds latest Energy Efficiency Design Index (EEDI) benchmarks. "The carbon footprint of the F900 class is 30-50 percent less compared to the existing heavy lift fleet in the market," stated Lars Bonnesen, managing director of UHL.
The two new ships, which will be built at the CSSC shipyard in Hudong, China, will be available to the market in 2023 and 2024.
Andreas Rolner, managing director of UHL, added that environmental, social and governance (ESG) is central to its future strategy: "One of our goals is to reduce emissions from our own operations and help our clients achieve their decarbonisation goals. Sustainability is an integral part of how UHL operates. Key to this change is to build and maintain one of the most modern and fuel-efficient multipurpose heavy lift fleets in the market. We are phasing out all UHL 800 P-type vessels and replacing them with fuel-efficient modern tonnage. Our vision is to become a sustainability leader in the heavy lift industry."