Two mobile harbour cranes have arrived at the port of Newcastle, Australia, aboard UHL Fighter.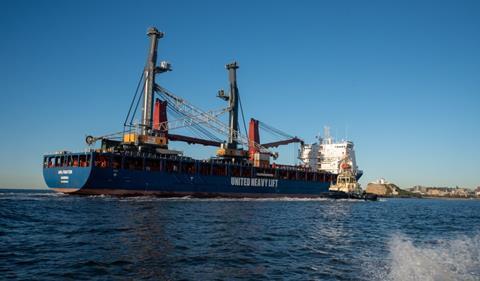 The German-built LHM 550 cranes sailed into Newcastle Harbour on the United Heavy Lift (UHL) vessel after leaving the port of Rostock in late June.
Port of Newcastle ceo Craig Carmody said the AUD28.4 million (USD19.5 million) investment marks a significant increase in container handling capabilities at the port's versatile Mayfield 4 berth: "Industry has been very clear – they don't want to have to pay more to send their container exports to Port Botany or the port of Brisbane when they could be taking advantage of the port of Newcastle's enviable road and rail network and potentially save millions of dollars a year.
"These two new mobile harbour cranes will allow us to move cargo and containers within the limits that the port commitment deeds (PCD) bind us, so that we can give our customers a viable alternative. As a global trade gateway and the world's largest coal export port, diversification isn't an option, it's a must, so we are taking what action we can while continuing to advocate for the removal of the PCD."
The Liebherr mobile harbour cranes can also handle a diverse mix of project cargo, including wind turbines, timber, steel coils, transformers and mining equipment.