Bakker Sliedrecht and RH Marine are teaming up to install Roll Group's vessel BigRoll Bering with a Dynamic Positioning 2 system (DP2).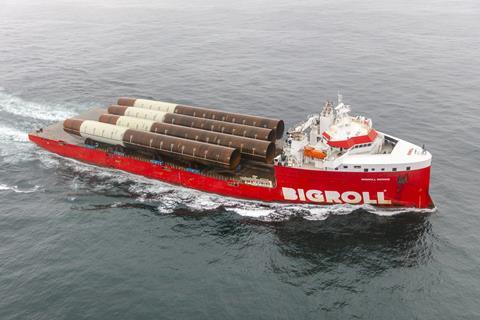 The DP2 system will allow the 173 m-long module carrier to better maintain its position during offshore loading and unloading operations, and increases the deployability of the vessel for complex transports, according to Roll Group.
Bakker Sliedrecht will upgrade the vessel with the system; RH Marine will supply the computer, screens, control panels, joysticks and the DP software, as well as the wind sensors, motion sensors and differential global positioning systems.
Gerrit van Pelt, system architect at Bakker Sliedrecht, and Peter Copier, sales manager products and solutions at RH Marine, said: "The DP system improves the comfort of the vessel's control. The captain or helmsman can stop the ship at the push of a button. Because the DP system is DP2-class certified, it can also be used for complex jobs such as transporting foundations for wind turbines at sea, for which this classification is required."
Van Pelt added that the cooperation between the two companies – in which Bakker Sliedrecht is acting as the main contractor – means that communication is more efficient. "For a client like Roll Group it is easier to have one primary contact and to be approached by one party," he explained.
Copier added: "Normally we have a lead time of 24 weeks for the installation of a new DP2 system, but by scaling up our flexibility and working closely with Bakker Sliedrecht, we can complete it in 13 weeks."