The Port of Duluth-Superior, USA, has reported a 31 percent decline in total tonnage moving through the port as of August 31, compared with the same period in 2019. Wind energy shipments, however, are on the rise.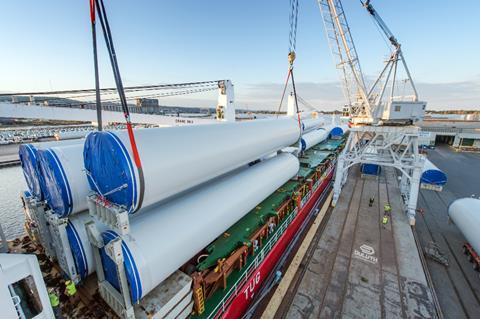 The port said this slowdown was driven primarily by declines in coal and iron ore tonnage, which were down 59 percent and 26 percent, respectively. The impact of the Covid-19 pandemic reducing demand for electricity and steel exacerbated this trend.
However, the Port of Duluth-Superior has experienced growth in outbound grain cargoes, and inbound wind energy cargoes.
A steady flow of wind turbine blades, towers and nacelles have passed through the port, which has served as multimodal distribution hub to multiple project sites in North America. The port also said that nine ships loaded with wind components visited the Clure Public Marine Terminal through August 31 – contributing to what could be record-setting numbers for renewable energy cargo.
With overseas vessels due to arrive in Duluth from countries such as Brazil, India, Spain and Turkey, this pace of wind cargo shipments is expected to continue.
"A season like this emphasizes the importance of cargo diversity in a port," said Deb DeLuca, executive director of the Duluth Seaway Port Authority. "No one expected a pandemic, but the port is weathering the storm," she added.