Finnlines' first hybrid ro-ro vessel has been launched at the Nanjing Jinling shipyard in China.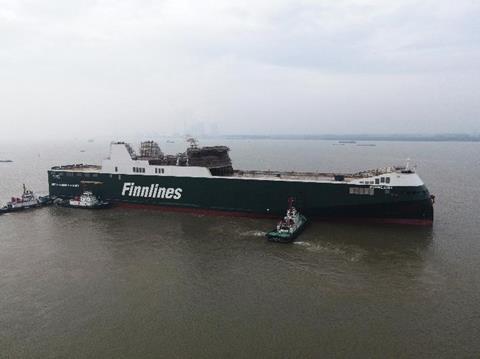 The vessel is part of Finnlines' EUR500 million (USD585.7 million) newbuilding programme. The hybrid vessels, named Finneco I, Finneco II, and Finneco III, are scheduled for delivery during 2021 and 2022.
Sailing under the Finnish flag, Finneco I will be mobilised on Finnlines' Biscay–North Sea–Baltic Sea service at the turn of next year.
Each of the new vessels can carry about 300 trailers, 150 cars and 500 containers per sailing. In comparison to the company's currently largest ro-ros, the cargo capacity will increase by 38 percent. Lithium-ion battery systems allow zero-emission port visits; modern two-stroke engines, emission abatement systems, solar panels and an air lubrication system will cut emissions further, said the carrier.