The port of Sunderland in the UK has put its Liebherr 420 mobile harbour cranes to work, executing two separate tandem lift operations.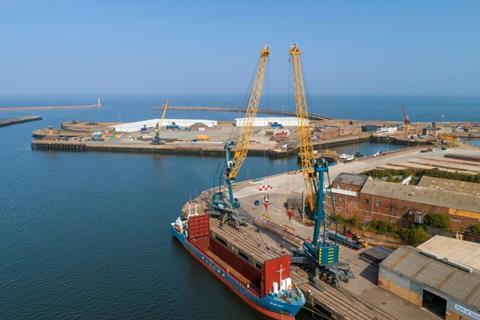 The cranes were used at its Corporation Quay deepwater river berth to lift 24 m-long cranes for export. This was followed by the discharge of a 116-tonne unit, also at the Corporation Quay berth.
The port invested in a second Liebherr LHM 420 crane in 2019. With both units, the port can handle tandem lifts with a maximum payload of 240 tonnes.
Matthew Hunt, port director at the port of Sunderland, said: "We invested in additional cranage in 2019, as our view of the marketplace at this time was that this would give us a more comprehensive handling capability, including being able to offer tandem lifting, something that allows us to support our customers' demands more fully."
The enhanced handling capabilities, according to the port, have played a key role in its year-on-year increase in cargo volumes. From April to June, the port handled some 71,748 tonnes of cargo set for export, compared to just 38,661 tonnes for the same period last year.
Councillor Graeme Miller, leader of Sunderland City Council and chair of the port of Sunderland, added that over GBP8 million (USD10.2 million) will be invested into the port over the coming years, as Sunderland looks to attract more business.