Saudi Arabia is progressing with its Vision 2030 Strategy and Kingdom Total Value Add (IKTVA) programmes, as it seeks to diversify its economy and develop new, non-oil industries. In order to explore new and existing business opportunities in the country, Bertling Logistics and Al Khaldi have established a joint venture: Al Khaldi-Bertling Logistics.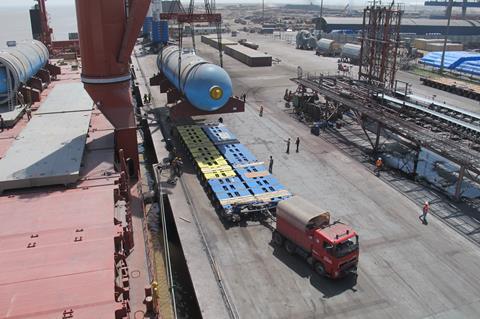 Al Khaldi-Bertling Logistics, which will commence operations on February 1, will explore new and existing business opportunities in Saudi Arabia in the oil and gas, the broader developing energy industries and the emerging non-oil sector.
The Kingdom's Vision 2030 Strategy and Kingdom Total Value Add (IKTVA) programmes have already resulted in local reforms, energy sector diversification, and business environment reforms. "Saudi Arabia's 'Beyond Oil' programme is critical for the diversification (especially in non-oil sectors), modernisation and well-being of the local business environment and society," said Colin MacIsaac, ceo of Bertling Logistics.
"The empowerment and employment of nationals (including women), the expansion of the private sector as well as the ease of doing business in the country and the increased support of local suppliers and partners are key for the Kingdom's future vision and also anchored in the ambitions of our joint venture company… Local content will be key to make our new setup in Saudi Arabia a success."
Al Khaldi-Bertling Logistics' office is located in the newly constructed Al Khaldi business tower in Al Khobar. It will be headed by the Bertling Logistics' recently appointed operations director, Adel El Said, who has 20 years of experience in the country's logistics market and extensive knowledge of the energy sector.
El Said joins from ATCO Group, where he most recently held the position of managing director at East & West Express, a Dammam-based subsidiary of ATCO Group, and oversaw ATCO's major industrial projects both commercially and operationally.
Each venture partner will bring their specific skillset to the table to offer customers end-to-end logistics solutions. While Bertling's focus is on global project logistics and transport engineering solutions, Al Khaldi specialises in local logistics/trucking services and transport vehicle supply.
Al Khaldi will contribute its strong local logistics expertise, widespread partner network and modern transport vehicle fleet. Bertling will bring in its global office and supplier network, modern IT infrastructure and a varied project expertise in Saudi Arabia, neighbouring regions and other foreign trade countries and partners of Saudi Arabia (like South Korea, China and India) to contribute to the success of the venture.
Al Khaldi-Bertling Logistics drew special attention to its in-house Customs clearance department, which will enable the company to offer door-to-door services, advice and documentation to their local and global client base.
"We are delighted and proud to have in Bertling as a loyal partner to add value and broaden our local service offering in Saudi Arabia and to diversify our portfolio," said Megren Al Khaldi, vice president of Al Khaldi Logistics.
MacIsaac added: "Saudi Arabia has always been an important market for Bertling and our global team is passionate about all the new business opportunities arising in the country. We are convinced that our new joint venture will obtain a leading position in the Saudi logistics market and that we will be ideally positioned to adequately respond to and serve the many business opportunities we have identified resulting from the increasing investments and ongoing reforms in Saudi Arabia."