The conference programme for the AntwerpXL conference has been unveiled.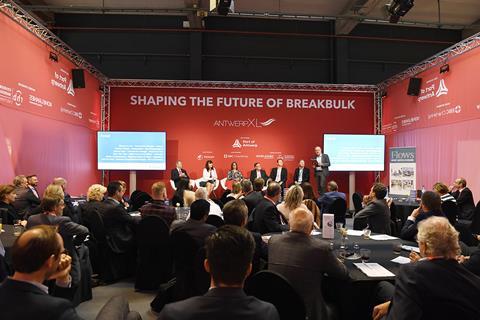 Day one features five sessions, four of which include:
Forecasting – managing the needs of breakbulk and project cargo shippers in the current multipurpose shipping market
Digitalisation – breakbulk bottlenecks and digital vision
Nextgen – the breakbulk industry's '40 under 40' and developing an agile workforce
Connections – Intermodal links, rail and barge
The first session, Forecasting, will be moderated by Susan Oatway, senior analyst at Drewry and immediate past chairman of the Institute of Chartered Shipbrokers. The panel will include Justin Archard, managing partner at One World Shipbrokers; Marc-Oliver Brockmann, European commercial manager, AAL Shipping; Rachel Kellett, managing director, Conceptum Logistics; and Joeri Tielemans, commercial director, Bolloré Logistics.
The Digitalisation panel includes: Karel Van den Berghe, ceo of Globis Software; Kunal Singh, sales engineer at Navis; Valentin Carlan, post-doc researcher at the University of Antwerp; and Stijn Olbrechts, process and digital transformation owner at Lineas. The session will be moderated by Peter Bouwhuis, president and ceo at XELLZ Group.
The lunchtime session, Nextgen, features speakers Christa Sys, professor at the University of Antwerp and Philippe Fierens, managing director of ExSeCo Belgium. They will discuss how to develop an agile workforce that is able to think outside of the box, using new skills and competencies for a robust future breakbulk labour market.
A Managing Continuity in Project Cargo and Breakbulk session will feature Axel Van Pul, project and breakbulk manager at MSC Belgium NV, and Ben Collins, global project cargo manager at MSC Headquarters, Geneva.
Closing the first day will be a Connections session led by Katarina Stancova, senior mobility advisor at the Port of Antwerp and featuring experts including Peter Larose, head of projects at Conti7; Edwin Moehlig, managing director at Rail & Sea NV; Louis-Robert Cool, ceo, Seafar; and Henk Kroos, commercial development manager for NRPC.
The day two programme includes sessions on:
· Technology – top applications, innovative technologies, and future-proof products
· Sustainability – a fight against climate change and a look towards future fuels
· Challenges and opportunities – the future of the breakbulk and project cargo sector
The opening session on Technology features Ben Swaelen, sales manager and Nicolas Van der Wee, creative strategist, both from icapps. They will discuss digital solutions, the problems that can arise within logistics, debunking the myths, looking after our people and the environment, and how to future-proof the industry.
The pre-lunch session on Sustainability will be led by Matthew Moss, knowledge transfer manager for maritime at Innovate UK KTN. He will discuss an outlook for developing a cost-effective and sustainable breakbulk logistics chain. The panel will include Bernard van Haeringen, sales manager at GoodFuels; Maja Felicia Bendtsen, chief business officer bulk at the port of Roenne; Wim Dillen, international development manager at the port of Antwerp; and Pascal Lammerts van Bueren, global director of Lubbers Logistics.
In the afternoon there will be a panel discussion on Automation, Digitalization, and Artificial Intelligence in shipping, moderated by Alexander Varvarenko, founder and owner of Shipnext and Varamar. Panel members Jurgen De Klerck (business development Manager 5G MPN Proximus) and Joe Caprara (vice president of intelligence and automation at SEDNA) will provide a look into digital sustainability, autonomous shipping, the challenges with brokers, and the future of container lines.
The conference will close with a Challenges and opportunities session that will review trends, trade flows, opportunities and barriers to trade, as well as the overall outlook for breakbulk projects. The panel will be led by Catrien Scheers, ambassador for Fast Lines and includes Albert-Jan Ars, commercial manager for Katoen Natie Port Operations; Yorck Niclas Prehm, head of research at Toepfer Transport; Marin Skufca, ceo for Liburnia Maritime; and Ann De Smet, key account manager maritime, Port of Antwerp-Bruges.
The full details of the conference programme can be found on the AntwerpXL website: www.antwerpxl.com.