HLPFI thoroughly enjoyed the British International Freight Association's (BIFA) 2021 Freight Service Awards, where Ace Forwarding took first place in the Project Forwarding category.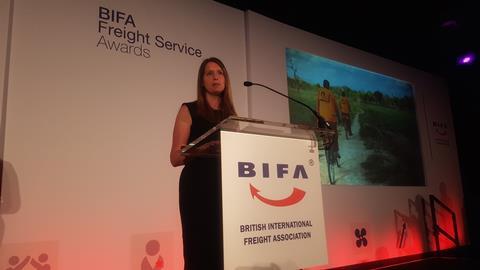 Scotland-based Ace Forwarding scooped the award, which was sponsored by Peter Lole Insurance Brokers, ahead of AsstrA UK, LV Logistics, and Ucargo.
Former England rugby international Matt Dawson hosted the 2021 Freight Service Awards, which took place on January 20, 2021 in London. He regaled the 500-strong audience with stories of illustrious career, which included winning the Rugby World Cup in 2003.
Winner of the Apprentice of the Year category, which was sponsored by Seetec Outsource Training, was Herbie Cobby (Geodis Freight Forwarding). Matt Vick of John Good Logistics was also singled out for special recognition. The other finalists were Joshua Boswell (Geodis Freight Forwarding), Bobby Lowe (NVO Consolidation), and Thomas Low (OIA Global).
Meanwhile, Laura Hobby (FS Mackenzie) impressed the judges with her passion for the industry to win the Young Freight Forwarder category, sponsored by Virgin Atlantic Cargo. Corey Chambers was also recognised for his contribution at Ital Logistics. Fellow finalists were Ronan Kitchin (Aramex UK), Milos Bogovac (ZenCargo), and Jamie Halliday (Tudor International Freight).
Congratulations to all those nominated. HLPFI is sure that they will have long and successful careers ahead.
BIFA director general, Robert Keen presented a Special Recognition Award for services to the international freight industry, as well as charitable activities, to Gordon Day, who, after retiring from the industry after a very successful career, is now a stalwart of the London Freight Club.
Commenting on the event, Keen said: "After a truly extraordinary and very challenging two years, it is great to meet in person to celebrate excellence across the freight forwarding industry, with awards that are now in their 33rd year, and justifiably regarded as the most prestigious in the sector. Once again, BIFA was delighted with the range of entries received from BIFA members that managed to take the time to document their achievements while continuing to manage their businesses through incredibly trying times, which is a testament to their tenacity. I congratulate all the companies that won each category, as well as those that were shortlisted as finalists."
The full list of winners across all categories can be seen here.