Chipolbrok is expanding its fleet of multipurpose tonnage. The newbuild vessel Tai Xing is embarking on its maiden voyage from Penglai, China, signalling the start of a series that will see three further ships join the company's roster.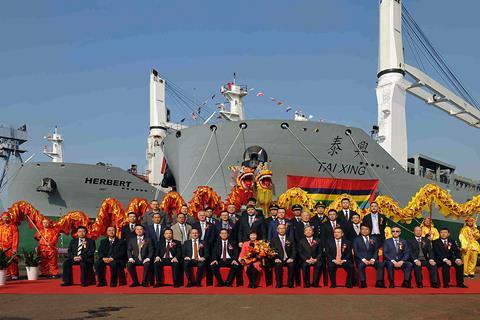 Tai Xing's first assignment is the delivery of wind turbine components to Puerto Bolivar, Equador. The ship, which was designed by Shanghai Merchant Ship Design & Research Institute and built at Chengxi Shipyard, is equipped with two 150-tonne capacity cranes.
The following three sisterships will be Herbert, Pilecki and Yong Xing. These will be delivered throughout 2022.
"This additional modern and unique tonnage will strongly increase our potential for carrying huge volumes of project cargoes, including oversized and heavy units as well as much bigger lots of bulk and semi-bulk commodities," said Chipolbrok.
By the end of 2022, Chipolbrok's fleet will consist of 10 of its Orkan-type 30,300 dwt ships; four Pacific-type 31,600 dwt ships; and the four 62,000 dwt newbuildings. The vessels are accompanied by four long-term chartered Trader-type ships.