USA-based Crowley aims to reduce its overall greenhouse gas (GHG) emissions by 4.2 million tonnes per year to reach a net-zero target by 2050.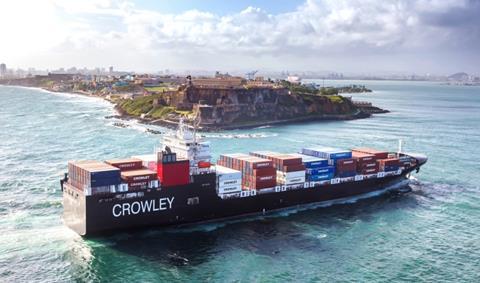 "Crowley is on a mission to become the most sustainable and innovative maritime and logistics company in the Americas," said Tom Crowley, chairman and ceo. "Working together with our customers, suppliers, policymakers and others across our value chain, we can meet the climate crisis head on."
Crowley is creating partnerships across the industry with government and non-governmental organisations to collaboratively achieve decarbonisation and climate action. These include the Blue Sky Maritime Coalition, which is focused on the North American maritime value chain, and the World Shipping Council focusing on the global container shipping industry.
"Crowley's value chain accounts for over 80 percent of our emissions across the enterprise. Collaboration with customers and partners is key to our mutual success reaching net-zero emissions using science-based standards," said Alisa Praskovich, vice president of sustainability. "By creating mutual accountability, we will spur innovation through the open sharing of ideas."
To achieve visibility into its total emissions footprint, Crowley has engaged Salesforce to co-develop a GHG emissions monitoring and modelling platform that will provide benchmarking, transparency and customised disclosures.
Other activities include introducing an all-electric tugboat and development of alternative energy vessels and offshore wind services. The company formed a new energy division at the beginning this year that will provide offshore wind services in the USA and is developing a programme that will allow customers to select more sustainable fuels.