The Drewry Multipurpose Time Charter Index weakened over May to USD11,120 per day – down from April's figure of USD11,170 per day.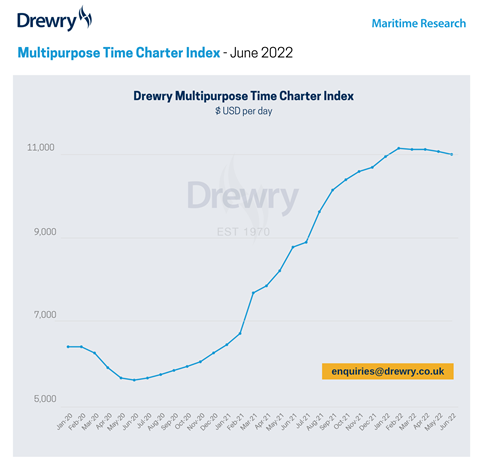 The softening is mainly due to the continued uncertainties in the global situation, said Drewry. Going forward it expects the weakening trend to continue in June, with rates dropping very slightly at just -0.6 percent to USD11,050 per day.

Drewry said: "The extended UK Jubilee celebrations and start of Posidonia inevitably produced a slight down turn in demand in the European shortsea market at the start of June, whilst longer haul there has been some continued weakness in Asia due to Covid lockdowns."
China's PMI did rise over May, but it remains below 50 and this is the third consecutive month to report contraction. That said both fuel prices and congestion levels remain high, so any weakness will be mitigated.
"Over the next month our view is that ongoing weakness in both the container and bulk spot markets will keep rates soft, but we do not expect any great movement in this level as we start to move into Summer 2022," added the analyst.

www.drewry.co.uk