It did not take long for the new Cory Brothers team in Rotterdam to put its skills on show with a shipment of barges destined for the Caribbean.
At the turn of the year, the Netherlands gained a new player in the project cargo and chartering market – Cory Brothers Rotterdam.
Located in Rhoon, the Rotterdam office is an expansion of UK-headquartered Cory Brothers. It provides freight forwarding services across all international trade lanes and specialises in energy, offshore oil and gas, dredging, project cargo, construction, food processing and mobilisation and demobilisation projects worldwide.
While Cory Brothers Rotterdam is new to the market, the team is made up of familiar faces to the project logistics industry, comprising Melvin Breukel as general manager of the office; Peter van Nieuwkasteele as commercial manager; Bob Lubbers as Customs manager; Otto Hogerwaard, Nora Santhagen and Thijs Moret as project forwarders; and forwarder Nikki Hanswijk.
Formerly, the team worked for Steder Group in the Netherlands, with the complete project team making the switch to Cory Brothers as of January 1. According to van Nieuwkasteele, they have "a proven track record working for renowned customers in dredging, temporary power solutions, heavy machinery and offshore construction".
Working together for over 10 years, the team has vast experience in imports, exports, Customs clearance, door-to- door deliveries, cross-trades, road transport, project management and chartering.
Breukel added: "The Netherlands is the ideal location to further develop the Cory business in Europe and beyond. It is an exciting time for me, my team and new colleagues… Our experience in new routes, new sectors and customer service provides a broader connection to existing customers while opening new potential for north-west Europe, Africa and the Middle East, among other key trade lanes".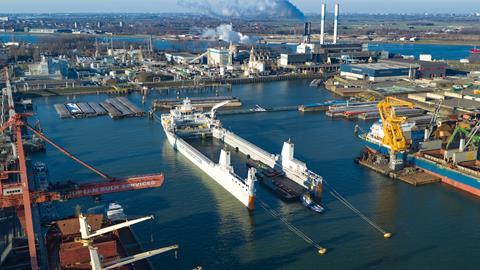 Barges transport
Towards the end of February, Cory Brothers Rotterdam was tasked with shipping three barges, weighing 200 tonnes each, and a small workboat from the port of Rotterdam to the Caribbean. Each barge had an overall length of 36 m.
Together with the charterers it was decided that a semi- submersible transport was the best solution. Negotiations with carriers ensued and the transport entrusted to Sevenstar – a specialist in yacht and boat shipping.
After the negotiation concluded, the shipment was fixed and load preparations started, working together with Sevenstar. The units were brought alongside the semi- submersible vessel and floated in, after which Sevenstar performed the lashing and securing.
As of early March, the barges and workboat are currently sailing towards their new home in the Caribbean.
This article has been taken from HLPFI's March/April 2023 edition of the magazine.