At the Seahorse Freight Association's journalism awards, held in London on December 7, HLPFI editor David Kershaw walked away with the trophy for Multipurpose Cargo Logistics Journalist of the Year, sponsored by AAL Shipping.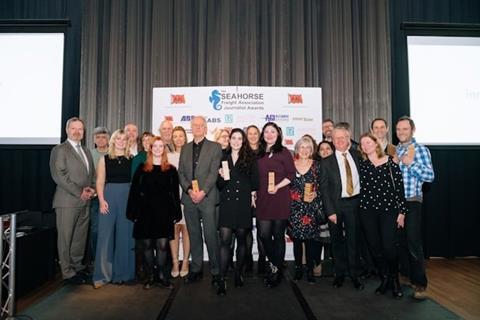 HLPFI's regular contributor Megan Ramsay was highly commended in the multipurpose cargo category for her work with the magazine. Ramsay also collected the award for Air Cargo Journalist of the Year, sponsored by Alliance Ground International.
Fellow HLPFI writer Phillip Hastings picked up the award for Feature Journalist of the Year, sponsored by Associated British Ports (ABP), while Kershaw received high commendation in the same category.
Seahorse aims to recognise excellence in journalism across the transport and logistics industry. This year's event was attended by over 160 guests.
After four years without an awards ceremony, Seahorse has relaunched as a non-for-profit organisation. The awards were judged by 22 industry professionals from across the globe and from all transport modes, as well as supply chain, technology, public relations, and journalism. The panel included a 50/50 split of men and women, and a range of ages and experience.
Emma Murray, Seahorse chair and founder ceo of Meantime Communications, explained: "We hope that by including so many different professionals, we have not only ensured a robust and fair judging system, but also shone a light on the incredible and diverse industry that we work in and, by doing so, helped to inspire young professionals already in the industry, or curious about joining."
Prizes were awarded in 10 categories including maritime, air, overland, technology, multipurpose, and supply chain journalist of the year, as well as rising star, news, feature, and journalist of the year.
See below for the list of winners:
Journalist of the Year
Highly Commended: Iain MacIntyre, Freelance/Boardroom
Winner: Richard Meade, Lloyd's List
Sponsored by: Lloyd's Register
Lifetime Achievement Award
Winner: Peter Owen
Personality of the Year
Winner: Valeria Ihnatenko
News Journalist of the Year
Highly Commended: Greg Knowler, Journal of Commerce (S&P Global)
Winner: Constantinos Paris, Wall Street Journal
Sponsored by: Kale Logistics Solutions
Feature Journalist of the Year
Highly Commended: David Kershaw, Heavy Lift & Project Forwarding International
Winner: Phillip Hastings, Heavy Lift & Project Forwarding International
Sponsored by: ABP
Air Cargo Journalist of the Year
Highly Commended: Eric Kulisch, FreightWaves
Winner: Megan Ramsay, Freelance
Sponsored by: Alliance Ground International
Maritime Journalist of the Year
Highly Commended: Max Lin, S&P Global
Winner: Felicity Landon, Freelance
Sponsored by: ABS
Overland Journalist of the Year
Highly Commended: Nick Savvides, The Loadstar
Winner: Greg Knowler, Journal of Commerce (S&P Global)
Sponsored by: Davies Turner
Supply Chain Journalist of the Year
Highly Commended: Isabella Fish, Drapers
Winner: Gavin van Marle, The Loadstar
Sponsored by: Rock-it Global
Technology Journalist of the Year
Highly Commended: Lacey Jones, Container Management
Winner: Paul Berrill, TradeWinds/TW+
Sponsored by: Awery Aviation Software
Multipurpose Cargo Logistics Journalist of the Year
Highly Commended: Megan Ramsay, Freelance
Winner: David Kershaw, Heavy Lift & Project Forwarding International
Sponsored by: AAL Shipping
Rising Star of the Year
Highly Commended: Jack Donnelly, Port Technology International
Winner: Michelle Mooney, Logistics Manager
Sponsored by: TT Club