The Seahorse Freight Association will announce the winners of its annual Journalist Awards at the 17th century London venue, Amazing Grace, on December 11.
Entries were received from over 60 journalists for the 13 judged categories, which include Air Cargo Journalist of the Year, Overland Journalist of the Year, Maritime Journalist of the Year, Technology Journalist of the Year, Multipurpose Cargo Journalist of the Year, Supply Chain Journalist of the Year and the new Multimedia Journalist of the Year.
The awards also include two nominated categories: Personality of the Year and Lifetime Achievement Award.
"The Seahorse awards continue to go from strength to strength, bringing together industry professionals and many talented journalists for a super networking event," said Emma Murray, ceo and founder of Meantime Communications and chair of the Seahorse Freight Association.
"It is great to see so many professionals come together to celebrate the outstanding contributions of so many brilliant individuals in the industry."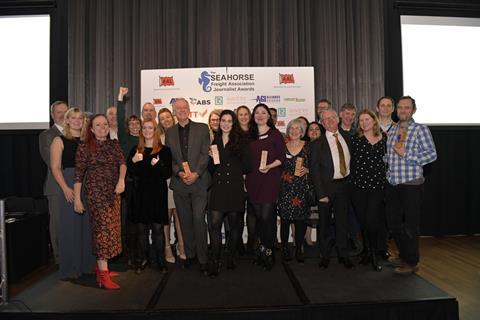 The Seahorse Freight Association Journalist Awards are supported by headline sponsor AAL Shipping, with categories sponsored by TT Club, ABS, Lloyd's Register, Nautilus International, Multimodal, The International Air Cargo Association (TIACA), Davies Turner, PSA International, Raft, OIA Global, and Glasgow Prestwick Airport, as well as entertainment sponsored by Awery Aviation Software.
"We at AAL recognise the great value of the international shipping and transport press and welcome the awards as they celebrate high quality journalism," said John Pittalis, head of marketing and communications at breakbulk, project and heavy lift cargo ocean carrier AAL Shipping.
"The Seahorse Awards give us the opportunity to thank the journalists personally for everything they do to drive high standards throughout the entire transport and logistics sector."
The awards closed temporarily in 2019 before being relaunched last year.
The judging panel comprises 24 experts from across the supply chain, journalism, and PR sectors, bringing vast expertise and credibility to the awards programme.
For more information about the Seahorse Freight Association Journalist Awards and how to register your attendance, please visit seahorseclub.co.uk