2021 proved to be a record year for Liebherr's maritime mobile harbour cranes. Order intake volume was higher than ever before with more than 80 new units and various used models sold to customers worldwide.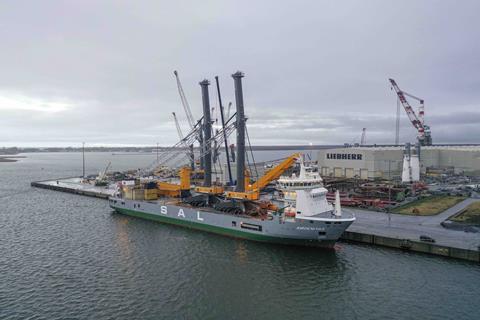 There was strong growth in the Middle East and West Africa regions, and stable core markets in Europe as well as North and South America. As in previous years, the LHM 550 was the most popular crane, closely followed by the LHM 420. A strong increase in sales of the LHM 800 was recorded, which more than tripled compared to the previous year.
Strong sales in 2021 has helped build a very promising orderbook and the company is looking towards 2022 with confidence. "The Liebherr mobile harbour crane and its clear technical advantages in the market have once again convinced customers all over the world. I am very proud of our sales team here in Rostock and in more than 40 sales and service companies worldwide. Only through our cooperative and partnership-based collaboration can we meet the needs of our customers," said Andreas Müller, sales director for Liebherr Mobile Harbour Cranes.
Liebherr also saw record uptake for its portal cranes. More than 20 new units were portal slewing (LPS) models and Liebherr closed out the year with a four-crane order from Italian steel manufacturer Acciaierie d'Italia. The LPS 800s are 100 percent electricity powered and feature its Pactronic hybrid system, which supplies the crane with additional power when required.
Almost half of all Liebherr mobile harbour cranes sold in 2021 were equipped with an electric main drive and thus equipped for emission-free cargo handling. The demand for various electric drive solutions has doubled when compared to the sales year 2019.
2021 was also a good year for the all-electric LPS 420 E portal crane. There is a clear trend within the maritime crane industry towards more electric main drives, said Liebherr. In addition, the advanced LPS 420 E, which is powered exclusively by electric motors, also had a record year. Although sales have been consistently stable since its launch, six of these portal cranes were sold in 2021 -– one of them to Euroports Germany, based in Rostock. The unit will be commissioned next year. "We want to further strengthen the handling performance at our bulk terminal. In the coming year, we are not only investing in a new crane to be even more efficient, but we also want to make our contribution to sustainability," said Karsten Lentz, managing director of the Euroports Germany Group.