The Astra mobile bridge has been inaugurated in Switzerland, marking the launch of an innovative solution that minimises public disruption during motorway maintenance activities.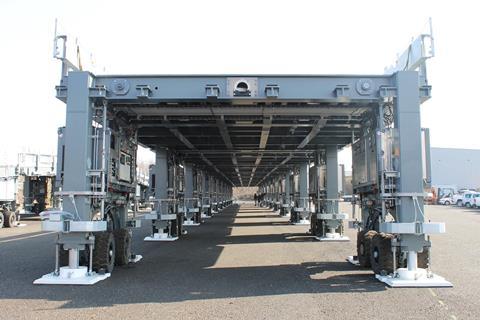 The bridge was built by a consortium of Senn together with Marti Technik, in cooperation with trailer manufacturer Cometto and the Swiss Federal Roads Office.
The Astra bridge measures 240 m long and is built above the roadway to be resurfaced. Traffic is diverted onto the bridge in two lanes, with motorists able to travel at 60 km/h. Around 100 m is available under the bridge for actual construction work. Once the work under the bridge is finished, the mobile bridge is moved a further 100 m by remote control.
The bridge itself consists of a drive-on ramp, 18 portals, 19 intermediate sections and a departure ramp. Cometto and Faymonville supplied power packs, valve packs, control cabins, MSPE bogies for the gantries, SPMT bogies for the ramps, ModulMAX SP-E bogies for the ramps, and the satellite navigation system for the complete bridge.
The complete unit was collected at the storage location in Rothrist in Switzerland. The site is located within the Wiggertal motorway interchange and is therefore strategically located for quick access to future motorway roadworks.