Australia's LCR Group has taken delivery of a 1,200-tonne lifting capacity Demag AC 1000-9 all-terrain crane.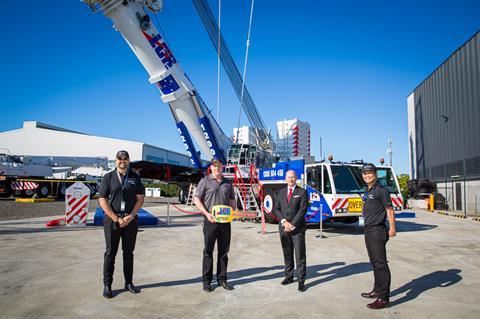 The team at Tadano Oceania said that it is the first time a Demag AC 1000-9 unit has been delivered to Australia. The manufacturer celebrated this milestone by handing over the crane at its open house day at the new Tadano Oceania headquarters in the Lytton suburb of Brisbane.
"Needless to say, that was a big day for us. Not just because we put the very first Demag AC 1000-9 in Australia into operation, but also because we are now able to offer our customers even better performance with heavy load lifts," said LCR Group executive general manager, cranes and transport operation, Peter Koschel.
Tadano heavy lift sales manager Howard Dean added: "With its powerful performance characteristics and enormous lifting capacity, the AC 1000-9 will energetically contribute to many projects that are important to the Australian economy and help us keep pushing our country forward."
The crane has a 50 m main boom that comes as standard and with the optional luffing jib, the crane reaches a maximum system length of 163.3 m.