Poland-based crane company Błażej & Roman Usługi Dźwigiem has acquired a Liebherr LTM 1650-8.1 mobile crane for use in the wind power sector.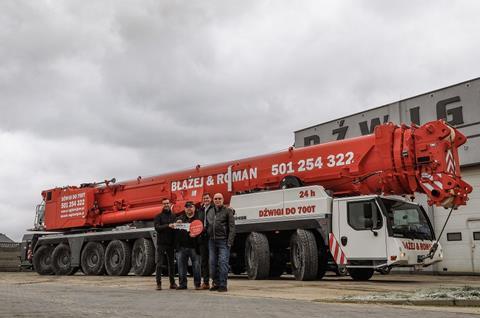 The eight-axle crane has a lifting capacity of 700 tonnes. Błażej & Roman opted for a 54 m boom with a 91 m luffing jib. In this configuration, Liebherr said the LTM 1650-8.1 can reach a maximum lifting height of 148 m.
The manufacturer added that the crane is now the largest unit in Błażej & Roman's fleet.
The company plans to use the crane for pre-installation work on new wind turbines as well as maintenance work on turbines that are already in operation. Błażej Kasperski, co-owner of Błażej & Roman, said: "In Poland, wind energy has great potential. Due to the global geopolitical situation, the use of wind energy is likely to increase steadily, which will lead to rising demand for a mobile crane of this type."
He added: "A crane with this kind of lifting capacity will allow us to reach an even larger customer base and realise projects that we could only dream of before."