Industrial steel contractor Bladt Industries has taken delivery of a suite heavy-duty trailers from Cometto.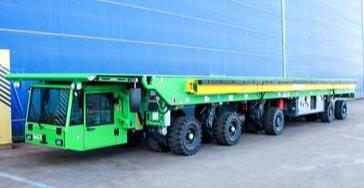 Bladt Industries, which manufacturers foundations, transition pieces and substations for offshore wind projects, took delivery of a pair of two-axle Eco1000 trailers. They have a maximum payload of 84.5 tonnes each, and will be used for in-plant moves.
32 axle lines from Cometto's MSPE range will extend Bladt Industries' ability to handle heavier tasks up to 1,400 tonnes. The self-propelled heavy-duty SPMT units are equipped with two driver platforms, a kit for side-by-side coupling, many options for open-compound configurations and a remote diagnostic system installed on both powerpacks. With this equipment, the major transport steps in the monopile manufacturing process are covered, said Cometto.
Bladt's Munkebo (Denmark) site also received two ETL industrial transporters, with a payload of 120 tonnes each. These will be used to move long sheet metal plates.