Liebherr has collaborated with Buckner Heavy Lift Cranes to develop the SL8F2 boom system for the LR 11000 crawler crane.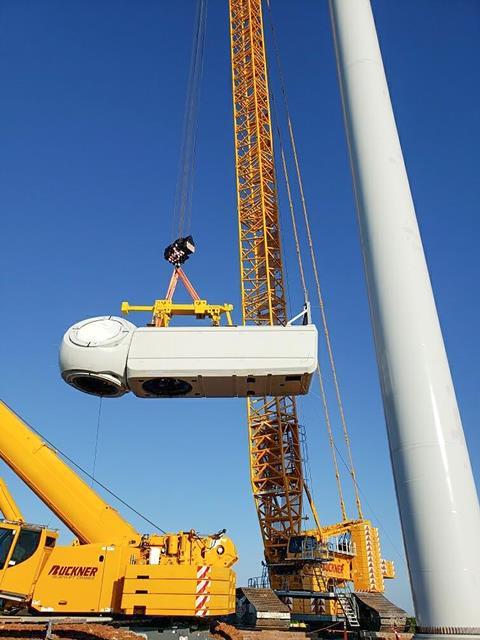 The system has a lifting capacity of 253 tonnes with a hook height of 114 m – enough to hoist a 230-tonne completely assembled generator and load handling equipment up to a hub height of 108 m.

The configuration of the LR 11000 with SL8F2 for modern wind turbines on towers around 100 m high is particularly economical because the crane can operate without a derrick system, said Liebherr. This saves crane contractors logistics work and set-up time because fewer parts have to be transported and erected.
Buckner utilised the system to hoist a Nordex Delta 4000 generator at a wind farm in northern Oklahoma, USA. Previously, three hoists were required to install the nacelle, drivetrain and hub separately, explained Liebherr.
Daniel Ives, engineering product support and analyst at Buckner, added: "As we are convinced by the performance of the new SL8F2 system, we suggested to our customer, Wanzek Construction, and the owner of the wind farm, Duke Energy Corporation, that we should attempt to install the complete generator in a single hoist. As a result of the possible cost savings and the reduced risk posed by wind and weather, Nordex was then also quickly convinced to develop the load handling equipment for the job."
Buckner used several Liebherr cranes for this wind farm project. LTR 1220 telescopic crawler cranes were responsible for unloading the components and assembling the nacelle, drivetrain and hub on the ground. Liebherr LR 1500 crawler cranes installed the bottom sections of the towers. These units were then converted to a luffing boom system to assist with the installation of the rotor blades.