Kier Infrastructure tasked UK-based Britlift to produce a bespoke lifting beam to add enough weight to its lifting operations in order to increase the maximum permitted windspeed at a coastal project site.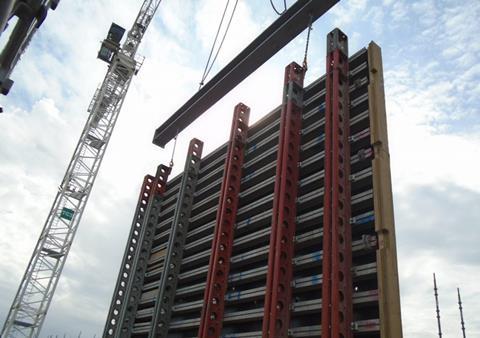 Kier Infrastructure said: "To facilitate construction of a reinforced concrete building the principal contractor has provided four tower cranes which are between 54 m and 68 m from ground level. The coastal environment often means the cranes are non-operational due to high wind speeds. Initially the maximum permitted windspeed for lifting standard size formwork was 6 m per second which, resulted in the cranes being non-operational 50 percent of the time."
The solution was to "add weight to the formwork to increase the maximum permitted windspeed". Initially, it was debatable whether the weight of lifting accessories was to be included when calculating the maximum permitted windspeed but through collaboration with the client and its subcontractor it was deemed viable for the accessories to be added to the gross weight of the load.
Using the heavy-duty lifting beam increased the maximum permitted windspeed to 8 m per second for standard size formwork, with a further increase when using smaller sized forms. As a result, crane downtime has been reduced, increasing productivity.
Following the initial supply of the bespoke weighted lifting beam, Kier Infrastructure returned to Britlift for a more customised second lifting beam, which provided further lifting efficiencies.