Czech Republic-based APB Pilzen has taken delivery of a modular CombiMAX trailer from Faymonville.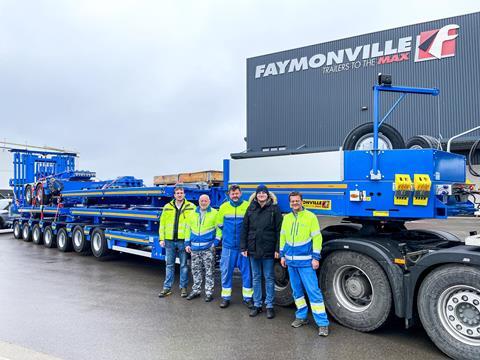 A seven-axle loading platform and a two-axle bogie have been developed to transport trams and wagons. Featuring cranked axles, Faymonville could reduce the loading height in driving position to 740 mm.
Railway vehicles will be pulled onto the trailer by a powerful winch, assisted by the incorporated rail guides in the loading platform. These guides are adaptable to widths of 1 m, 1.45 m or 1.67 m.
Moreover, the CombiMAX can be extended by mountable elongation beams measuring 6 m or 7 m. These can be installed without the need for cranes, said Faymonville. The extension elements are fitted with rail wheels, folding supports with rollers and hydraulic supports to allow mounting using only the truck.