South Korea's DaeMyung deployed 96 axle lines of Cometto MSPE self-propelled modular transporters to deliver the lower base of an offshore jacket for the Greater Changhua offshore wind farm project in Taiwan.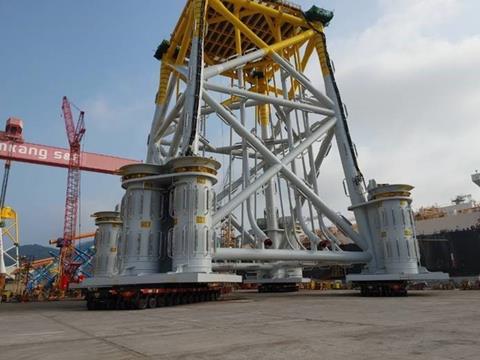 The base measured 49.5 m x 47.5 m x 48.5 m and tipped the scales at 3,700 tons (3,356.6 tonnes).
The Cometto EVO2 series offer a payload of 60 tons (54.5 tonnes) per axle line. Eight power pack units (PPUs) powered the combination to move the offshore jacket base.
The move was executed at the shipyard of Samkang S&C in South Korea where the convoy covered a distance of over 300 m to the dock in Goseong.
In a separate project, Europe Automotive Holding (EAH) deployed its SPMT Cometto Eco 1000 to move a 120-ton (108.9-tonne) press.
According to Cometto, the four-axle Eco 1000 offered the ideal loading platform to transport the unit, and was compact enough to manoeuvre within the tight space.