Enercon is calling upon a RUD Tecdos TM turning table to handle rotor hubs at one of its wind turbine manufacturing centres.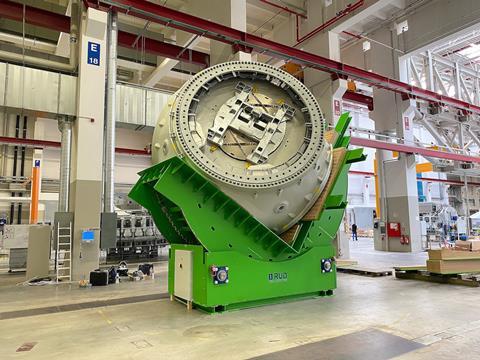 Enercon's RUD Tecdos TM tool turns the rotor hubs, which weigh up to 65 tonnes, within a few minutes. "Previously, we turned the hubs around with two indoor cranes. This could take up to two hours," said Keno Claassen, responsible for the procurement of resources in the competence centre.
Despite its high load-bearing capacity of up to 65 tonnes, the RUD's rotor hub turner is compact. "We made sure that the turning table was no wider than 2.5 m so that it could be transported on conventional low loaders without the need for any special permits," explained Ralph Roth, who works at RUD in the development and design of Tecdos mechanical engineering.