Enerpac Heavy Lifting Technology's engineers in the Netherlands have tested a Super Boom Lift 600 (SBL600) hydraulic telescopic gantry ahead of its shipment to Australia.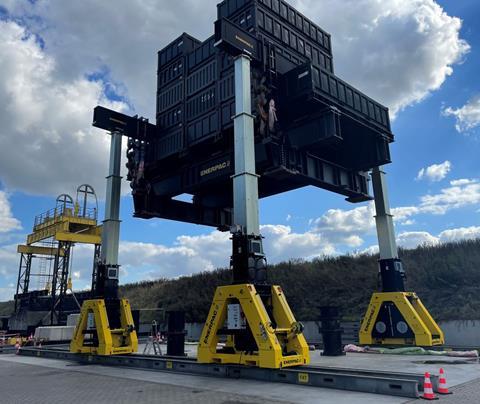 The three-stage gantry has a lifting capacity of 674.4 tonnes, with a maximum lifting height of 10.6m.
Representatives from Lloyd's Register (LR) were present at the two-part test to verify the system's credentials, which included a static load test and a factory acceptance test (FAT).
During the static load test each individual gantry leg, which has a built-in hydraulic pump, was subjected to 125 percent of its load capacity at all three stages. For factory acceptance testing, the gantry lifted 110 percent of the safe working load in the upper-third stage (10.6m). Further testing included moving the gantry along a skid track.
The gantry was subjected to a side-load test that ensures compliance with ASME B30.1 – an industry standard that covers heavy lifting equipment such as hydraulic jacks, hydraulic gantries and strand jacks. In addition, the system complies with CE, UKCA and other safety standards.
Accessories for the SBL600 include header beams, a skid track and side-shift units used for shifting loads along header beams with wireless controls. It also features a foldable boom that allows for transportation on a standard flatbed trucks.
"All our lifting systems are subject to a rigorous testing regime ensuring safe and compliant equipment for demanding machine moving and industrial applications," said Tom Eggert, global product manager, Enerpac Heavy Lifting Technology.