Faymonville has added the HighwayMAX Dolly&Booster trailer to its North American product range.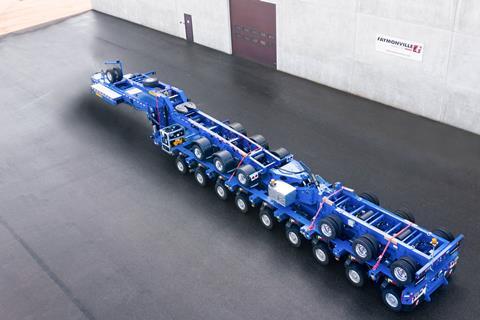 Part of the HighwayMAX product series, the extendable super heavy haul trailer is composed of nine hydraulically steered pendle axles, a three-axle jeep dolly and a three-axle nitro booster. Including the truck, the unit creates a 19-axle combination and offers a payload capacity of 108.9 tonnes at 9.1 tonnes per axle.
Faymonville said the trailer saves time and money because it can be assembled and disassembled quickly and easily. As the keep dolly and booster are detachable, they can be loaded onto the trailer for empty runs, which also avoids the need to acquire permits.
The truck and trailer combination length is less than 2.8 m-long and the loading platform can be extended up to 2.1 m.
Faymonville added that the pendle axle technology enables high manoeuvrability. It is king-pin steered with a steering angle up to 60 degrees.