Japan's TOA Corporation and Obayashi Corporation will acquire a pile gripper for monopile installation from Huisman.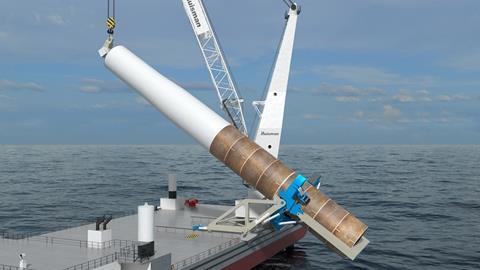 Capable of handling up to 8 m-wide monopiles, the gripper is designed to upend and install the units without using a separate upending bucket. This maximises overall safety and efficiency, said Huisman.
The gripper will be installed on TOA and Obayashi's self-elevating platform (SEP) vessel, outfitted with a 1,250-tonne Huisman pedestal mounted crane.
According to Huisman, the monopile gripper will be the first of its kind to be used in Japan and will support the country's renewable energy transition.
Huisman's Asia-Pacific commercial director, Timon Ligterink, commented: "We are extremely honoured to be awarded our very first monopile gripper contract in Japan. This order is the result of our partnership with TOA Corporation and Obayashi, which we have developed over multiple years."