UK-based Hydratight deployed an Enerpac cube jack, skidding system and turntable to remove and refit a vessel cover in an industrial complex in Germany.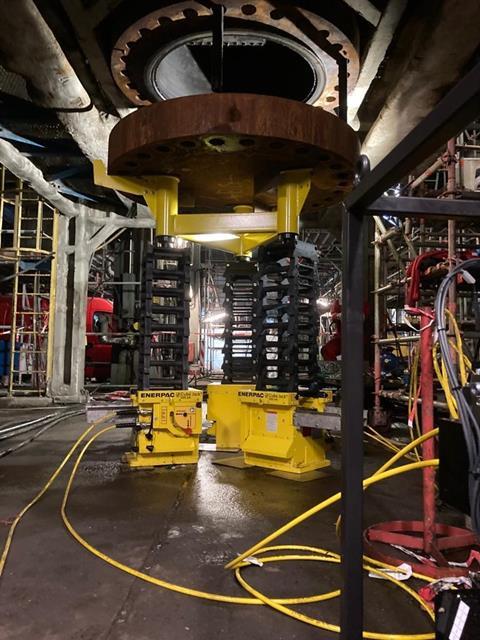 A team of 40 Hydratight engineers was tasked with lifting the vessel cover, performing onsite machining and controlled bolting on a number of vessels and heat exchanger joints during a 45-day plant shutdown.
Enerpac said that, following problems with the lifting system normally used to lower and lift the main vessel cover during maintenance, an alternative system was sought.
Tight space restrictions in the plant prohibited the use of a forklift truck. Instead, the Hydratight team used Enerpac cube jacks – supplied by German distributor Helissen – for the operation.
Three cube jacks were used to lift and lower a frame supporting the cover. Before refitting, the cover was milled using a specialised Enerpac Mirage MM2000E milling machine.
The cover and cube jacks were placed on an Enerpac ETT turntable, which were moved into position using a low-height skidding system. With the cover raised, it was then rotated through control of the turntable's hydraulic cylinders' stroke, allowing the bolts to be fitted.
Chris Huiskens, commercial manager service and rental at Hydratight, said: "With the cube jacks, low height skidding system and turntable, we were able to complete the vessel cover removal and refitting without any delays."