Brazilian crane contractor I.V. Guindastes has upgraded its Liebherr LR 1600/2-W narrow track crawler cranes to improve their capabilities, specifically in handling larger wind turbine components.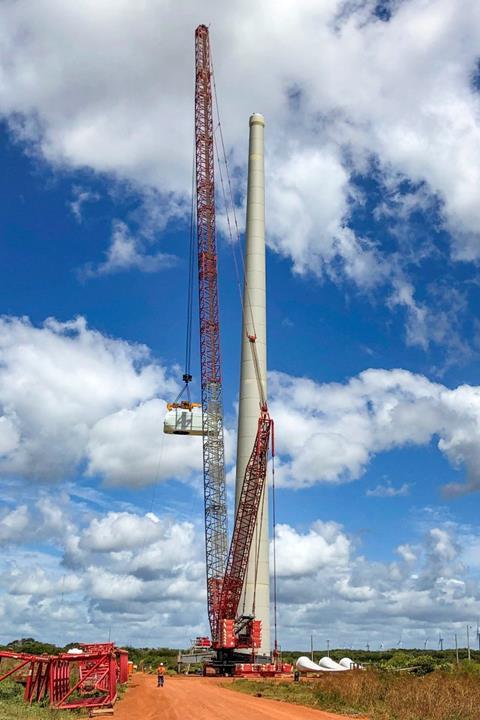 I.V Guindastes has two 600-tonne capacity LR 1600/2-W cranes in its fleet, which were developed to serve the wind power industry.
The upgrades consisted of extra lattice sections and a software update that allows operating with maximum control and safety with a new boom configuration. The LR 1600/2-W can now reach a hook height of 165 m and has a maximum lifting capacity of 73 tonnes within a radius of 22 m – meeting lifting requirements for current wind energy developments, according to Liebherr.
Ivo Boff Junior, supply director at I.V. Guindastes, said: "In some situations, with the upgrade we can have heights even greater than we have with an 800-tonne crane and maintain the ease of operation the LR 1600/2-W has in the wind farm, which normally has narrower accesses. In this sense, having a leaner crane with wider capacities helps a lot in the work."
Boff Junior added that the company can also use the crane in the pulp and paper industry and in the oil and gas sector.
Charles Boff, I.V. Guindastes commercial director, said the new capabilities of the equipment allowed the company to bid on a new range of contracts, which were previously limited to the use of mobile lattice boom cranes such as the LG 1750.
Moreover, Igor Boff, technical director at I.V. Guindastes, explained that the upgrade of the LR 1600/2-W improves the efficiency of the company's processes: "Without the upgrade, we would lift each part of the nacelle individually and finish its assembly there, at the top of the tower. The great advantage of hoisting the fully assembled nacelle to the top is the saving of time."