Crane contractor Dietmar Flossdorf deployed its Liebherr LTM 1650-8.1 alongside Autokrane Schares' LTM 1500-8.1 to lift a 140-tonne column in Germany.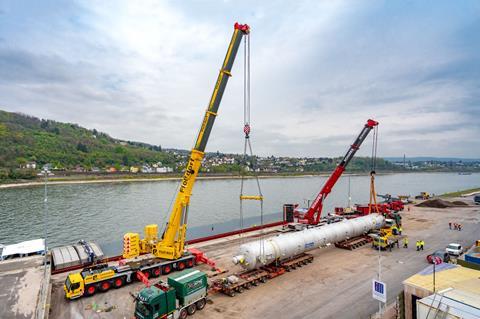 Dietmar Flossdorf was tasked with the lifting a CO2 washer column, which measured 43 m in length, onto a barge at the port of Andernach, Germany.
For the lift, the LTM 1650-8.1 was paired with Autokrane Schares' LTM 1500-8.1. Liebherr explained that for the gross load case of 77 tonnes per crane, the two eight-axle cranes had to hoist at a radius of 20 m. The LTM 1500-8.1 required ballast slabs with a gross weight of 165 tonnes on its slewing platform.
Thorsten Mahlberg, the crane operator in the LTM 1650-8.1, set the ballast radius to its maximum distance using the hydraulic slewing mechanism, which meant that it only needed 125 tonnes of counterweight for the tandem lift.