Mammoet has launched the SK6,000 – a 6,000-tonne capacity crane designed to enhance installation operations of large floating production storage and offloading (FSPO) modules and floating liquified natural gas (FLNG) units.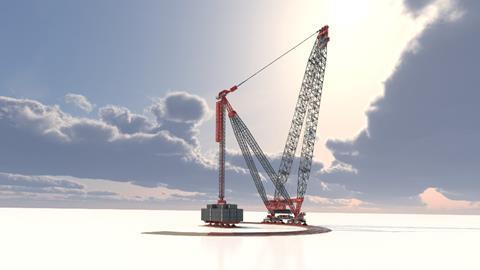 As FSPO and FLNG modules are growing increasingly larger and heavier, the limits of existing modern lifting technology are being pushed. That is why Mammoet developed the SK6,000.
Giovanni Alders, sales director at Mammoet, said: "As our customers strive for greater and greater efficiencies, both in terms of construction and production, the capacity of land-based cranes becomes a significant limiting factor when developing the FPSO modularisation strategy."
Limitations on lifting capacities often force engineers to fabricate smaller modules than is optimal, consequently tying up space and increasing the complexity and duration of projects, said Mammoet.
The size of FSPO and FLNG modules regularly tip the scales at 3,000 tonnes, and measure tens of thousands of cubic metres. The SK6,000 allows EPC's and owners to install modules up to 5,000 tonnes, with a maximum outreach of 144 m. The crane builds upon the same design of its predecessors the SK 190 and SK 350 and occupies a similar footprint.
"Its proven technology allows the topside modules to be lifted and installed from one single position without any need to rotate the hull, which is a costly and time-consuming exercise," said Mammoet.
The heavy lift specialist added that its "unique design" consists of a centralised ballast, eradicating the need to install a full ring track, which frees up site space by up to 45 percent.
Alders said that not only are the modules growing larger and heavier, but flare towers are growing taller: "With our SK6,000, we can install flare towers of up to 1,500 tonnes and 150 m in heights in a single piece," he said.
The SK6,000 is containerised and can be assembled quickly on site, it also has low ground bearing capacity. Mammoet said this means the crane can be used all over the world and provides greater flexibility in where and how projects are completed.