Below-the-hook equipment manufacturer Modulift has expanded its range of modular spreader beams with the MOD 1100/2000.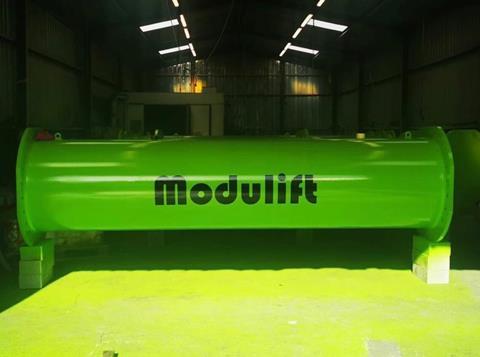 The Netherlands-based heavy lifting rental company Safe Lifting Europe contracted Modulift to design and manufacture a beam capable of lifting 2,000 tonnes, with a span of 33 m. The Modulift team also oversaw the sourcing of the materials and the testing stage of the MOD 1100/2000.
As it was the first time the company manufactured a beam capable of lifting 2,000 tonnes, Modulift's in-house compression test rig had to upgraded to facilitate the proof load test, which was witnessed by DNV. After securing type approval, the beam was painted in Safe Lifting Europe brand colours ready for its first lift later this year.
Harshal Kulkarni, engineering manager at Modulift, said: "It was a proud moment for Modulift to design and manufacture MOD 1100/2000 as the largest spreader beam in the spreader range, surpassing previous MOD 800/1500s.
"The MOD 1100/2000 spreader design is Modulift's standard pin ended strut design, which is extremely weight and cost efficient. This challenging assignment was successfully completed by the collective effort of the team right through the project duration," he added.
Modulift said that as a result of this project, the company will be able to proof load test any spreader beam up to a load of 2000 tonnes and a span of 33 m for future customers. The equipment manufacturer added that is already looking at upgrading its testing equipment to 3,000 tonnes for an upcoming project.