Modulift has designed and manufactured a bespoke lifting beam capable of recovering a micro tunnelling machine from the depths of the sea.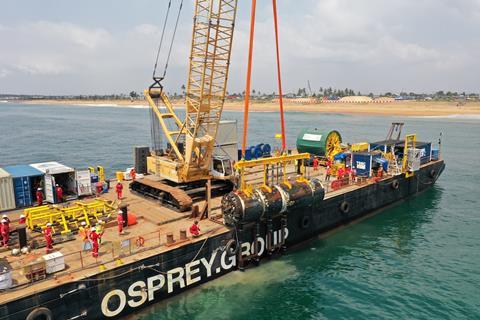 At the request of the customer, a specialist in tunnelling and micro-tunnelling, Modulift delivered a bespoke solution to meet the stringent DNV industry standards and with a Dynamic Amplification Factor of 2.0. In eight weeks, Modulift designed, produced and delivered the 50-tonne capacity custom beam.
The beam had to be designed for use above and below the water, taking into account the differences in the centre of gravity location and weight of the micro tunnelling machine due to the buoyancy force.
Modulift engineered the lifting beam with eight lifting points, together with turnbuckles to connect the lifting beam to the tunnelling machine. The 6.7 m-long beam featured two top lugs and four bottom lugs. Tugger points were installed for manoeuvring the beam into the right orientation before lifting.
The company also engaged DNV to perform a third-party design review and certify the beam in compliance with DNV-ST-N001. The design was successfully approved in the first round of reviews, allowing Modulift to complete the project within eight weeks; from design and drawings, to fabrication, painting, and procurement of rigging.