Ghana-headquartered Monpe Heavy Haulage delivered six engines from ports in Ghana to Niger, on behalf of DB Schenker.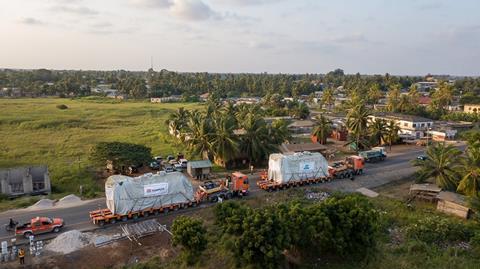 Monpe deployed two ten-axle ModulMAX trailers from Faymonville to haul the 219-tonne power units. Two engines were transported in convoy at a time, requiring a total of three journeys.
Peter Everett, general manager at Monpe, said of the trailers: "Their load simulation software allows to determine the best positioning of the cargo for ideal load distribution. And the technical set-up of the twin-tyre modular axle lines is as made for this kind of task."
The engines were shipped from CAT's facility in Germany, to the ports of Tema and Takoradi in Ghana. Monpe had originally planned to transport the cargoes through Burkina Faso, however security considerations meant the heavy haulage specialist had to choose an alternate route.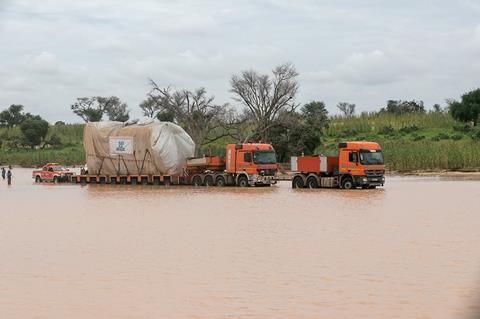 The engines were instead transported through Togo, Benin, and onward to their final destination at a power plant station near Niamey, Niger. The journeys averaged 23 days and covered a distance of 1,285 km each. Border crossings, bridge structures and small village roads were analysed and properly prepared for, and countless electric lines and other obstacles needed to be negotiated in order to guarantee safe passage.
Everett said the trailers handled the journey well: "The 650 mm stroke of the pendle-axles managed to cross very rough road segments with huge potholes and even some flooded areas, while still ensuring the stability of the convoy and cargo at all times."