UK-based Rope and Sling Specialists (RSS) has completed a proof load test for two 140-tonne capacity truss lifting beams on behalf of Sheffield-based TFL Responsive Engineering.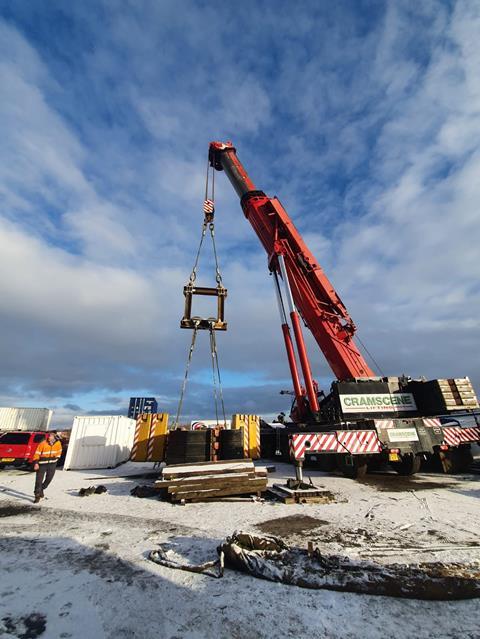 The pair of frames, which were manufactured by CTL Seal, were tested to a limit of 155.2 tonnes. CTL Seal also fabricated the 200-tonne capacity test jig for the bottom of the beams.
The work was completed with the assistance of crane rental firm Cramscene's heavy lift division in Morley, West Yorkshire.
Gary Coleman, site engineer at RSS's Rotherham office, and Mick Gill, senior testing engineer at RSS, carried out the work. Coleman explained: "All rigging gear was supplied by Cramscene. We planned the lift and the gear we would use on a previous visit to Cramscene's yard." The equipment included a 440-tonne capacity mobile crane, slings and shackles.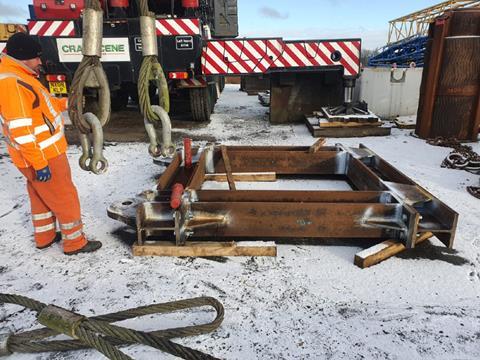 Gill added: "Much of this job was routine, but it was memorable because the thermometer read -2°C beneath the hook and heavy snow had fallen in the region. However, the wind was fine and only that would have put a stop to the tests. The cradle weighed 5 tonnes and we utilised 160 tonnes worth of ballast weights."
There were two lifting points at the top of the frame and four at the bottom.