Sarens has salvaged the Liebherr HLC 295000 crane at the port of Rostock, Germany.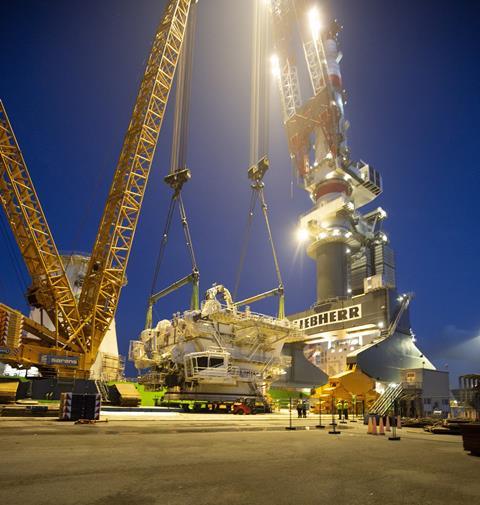 The HLC 295000, which was designed for the installation of offshore wind turbines and for the offshore oil and gas industry, was severely damaged following an accident the port of Rostock, which HLFPI reported on here.
Liebherr contracted Sarens to carry out salvaging work, which was split into phases. Firstly the damaged crane was secured on the vessel to allow movement to a different berth.
Components were then recovered and the heavy lift crane was dismantled. Sarens deployed three LR 1750 crawler cranes; LG 1150, LTM 1500, LTM 1200, LTM 1060 cranes; and SPMT units. For the removal of the slewing, the Liebherr-owned TCC 78000 in combination with a Sarens LR 11350 was used.
With a lifting capacity of up to 5,000 tonnes at an outreach of 35 m and a maximum lifting height of 175 m above deck, the HLC 295000 is the largest offshore crane Liebherr has manufactured and is expected to be completed by the end of this year, Sarens said.